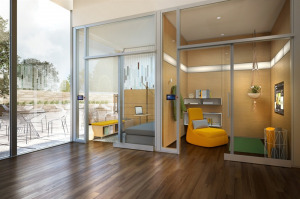 Post shared from The Wall Street Journal's Management and Career's Group "At Work".
In offices across America, introverts are under siege.
Companies are embracing open layouts – knocking down walls, dismantling cubicles and, in some cases, even asking workers to say farewell to their personal work stations. The goal is to improve communication, foster collaboration and save money by packing more workers into less space.
But one group of employees has suffered (quietly, as is their nature) amid the clacking keyboard keys and the cacophony of voices.
Introverts' nervous systems are more sensitive to stimulation than extroverts' are, according to Susan Cain, author of "Quiet: The Power of Introverts in a World That Can't Stop Talking."
"When introverts get too much stimulation, they feel overwhelmed and jangled," she said.
With no privacy or way to shield themselves from the commotion, introverts, estimated to make up one-third to one-half of the population, can feel exposed in the modern workplace. Being on display is imposing and distracting to them, Cain said.
Office furniture maker Steelcase Inc.SCS -0.45% is trying to give the left-behind introverts some love. Its new set of "quiet spaces," designed in collaboration with Cain, aims to help introverts relax and focus away from the eyes of their coworkers. The five rooms are soundproof and feature glass doors frosted in patterns that largely shield occupants from view but allow them to tell if someone is approaching. Introverts can also indulge in dim and tinted lighting to help them rejuvenate after a stressful two-hour meeting.
Get the rest of the story and imagery…